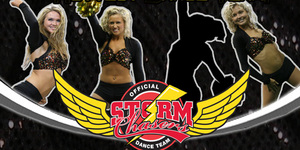 DES MOINES - The Iowa Barnstormers of the Arena Football League have announced a tryout date for their 2011 official dance team, the Storm Chasers. The tryouts are scheduled for Saturday, February 12 at the Best Western Marquis Des Moines Airport Hotel. Registration will begin at 8:00am, with the tryouts begin at 9am in the Grand Ballroom.
Once again this season, the Storm Chasers will be under the direction of co-captains Emily Collins and Marissa King, who will both be returning for their fourth seasons with the squad. "We had an outstanding group of young women on last year's team, and I'm hopeful that we will have another great turnout for this year's tryout," said Barnstormers General Manager John Pettit.
Any women interested in attending the tryout can register on-line at www.theiowabarnstormers.com or by calling the Iowa Barnstormers front office at (515) 633-2255. Additional tryout details are listed below:
WHAT: 2011 Storm Chasers Dance Team Tryout
WHEN: Saturday, February 12 2011 (Registration 8 a.m.; Tryouts begin at 9a.m.)
WHERE: Best Western Marquis Des Moines Airport Hotel - Grand Ballroom
ADDRESS: 1810 Army Post Road, Des Moines, IA 50315
COST: $25.00 per participant
AGES: Open to women ages 19 and up
EXPERIENCE: Dancers will be tested on the following - Double Pirouettes, Leaps, Advanced Dance Techniques, and Pom. A one minute routine will be taught and performed.
ATTIRE: Dance or athletic top (mid-drift must be showing), hot pants or shorts, skin toned tights or hose, dance sneakers, jazz shoes, or sneakers, performance ready hair and makeup.
ALL DANCERS MUST BRING: Resume, reference list, head-shot, insurance card, driver's license or identification and payment.
Click HERE to register!