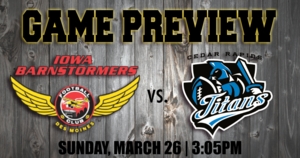 Game Preview: Cedar Rapids Titans @ Iowa Barnstormers
Cedar Rapids visits Iowa March 26
Des Moines, IA – The Iowa Barnstormers (2-2) are home for the first time this season as they take on in state rival the Cedar Rapids Titans (0-4) on Sunday, March 26, 2017. Kickoff is set for 3:05 p.m. CST at the Wells Fargo Arena.
Iowa looks to get back on track after losing a lopsided effort to the Sioux Falls Storm 70-13 last Monday night. The team was shut out through one and a half quarters before picking up a short touchdown run from receiver Ryan Balentine cutting the deficit to 28-7. On the defensive side, linebacker Javicz Jones had a game-high nine total tackles in the contest.
The Cedar Rapids Titans look to pick up its first win of the season after losing a close game to the Green Bay Blizzard 34-28 last Sunday. Former Barnstormer quarterback, Brion Carnes threw for three touchdowns and passed for 144 yards, while defensive back B.J. Lowery had a team high 5.5 tackles in the game. The game also features two of the best receiving threats in the league as Iowa's Brady Roland ranks 4th in yards per game with 68.8, while Titan receiver Damond Powell ranks 5th with 62 yards per game.
The Barnstormers will also be hosting their Annual Family Night presented by Chick-fil-A. Local area mascots will be in attendance to play a agme of dodgeball and perform the YMCA at halftime.
Season tickets are on sale for the Iowa Barnstormers 2017 season starting as low as $80 per seat. Season tickets are the perfect gift for the football fan in your family. Don't miss a minute of the action this season! For more information, call the Barnstormers at (515) 633-2255 or log onto www.theiowabarnstormers.com.
###