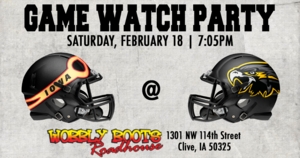 GAME WATCH PARTY!
Iowa Barnstormers @ Wichita Falls Nighthawks
Saturday, February 18 | 7:05pm
Wobbly Boots Roadhouse
Cheer on the Iowa Barnstormers at Wobbly Boots this Saturday, February 18! Enjoy great food and enter to win prizes! The Barnstormers are traveling to Wichita Falls, Texas to take on the Nighthawks. Kickoff is set for 7:05pm CST.
Wobbly Boots Roadhouse
1301 NW 114th Street
Clive, IA 50325