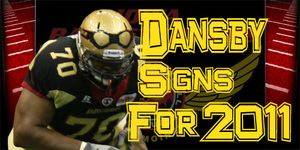 DES MOINES – Iowa Barnstormers Head Coach and Director of Football Operations John Gregory announced today that the Arena Football League team has agreed to terms with standout Offensive Lineman Michael Dansby.
Dansby (6-4, 312) returns to the Barnstormers for a fourth season, his fifth overall playing Arena Football. The Jackson State alumni began his Arena Football Career with the Arkansas Twisters (af2) in 2007, where he played for John Gregory. The next season Dansby followed Gregory to Iowa and had an immediate impact. He has started 48 straight regular season games for Iowa and has never missed a game. Dansby is also a three time winner of the Barnstormers "Lineman of the Year" award (2008-2010), voted on annually by Iowa players and coaching staff.
"We are very excited to have Michael back for another season", stated Gregory. "He has been a leader both on and off the field and sets an excellent example for our younger players". Dansby served as a team captain for the Barnstormers in 2010.
With the addition of Dansby, the Barnstormers now have 28 players under contract for the 2011 season. Expect more announcements from Coach Gregory and the Barnstormers in the coming days. Don't forget that 2011 Iowa Barnstormers season tickets remain on sale for as low as $117.00 per seat! The home opener is scheduled for Friday, March 25th when the defending AFL champion Spokane Shock come to town. To order your tickets, call 515-633-2255 or visit www.theiowabarnstormers.com for more information.