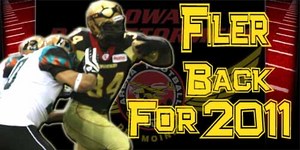 DES MOINES – Iowa Barnstormers Head Coach and Director of Football Operations John Gregory announced today that the Arena Football league franchise has agreed to terms with Fullback Rodney Filer along with Defensive Lineman Brandon Sesay for the 2011 season.
Filer (6-3, 255) will return for a fourth season with the Barnstormers in 2011. The twelve year AFL veteran began his career with the Barnstormers in 1999. Following the 2000 season, Filer moved with the franchise to Long Island, NY to play for the New York Dragons. After four years with New York, Filer also spent time playing for Las Vegas, Tampa and Utah, before returning to Iowa prior to last season. He has recorded 61 total touchdowns during his AFL Career. Filer was a four year letter winner at the University of Iowa from 1993-1996. He was named offensive MVP for a victory over Iowa State during his senior season. He spent 1 season in the NFL as part of the San Diego Chargers practice squad in 1997.
Sesay (6-6, 282) joins the Barnstormers for his rookie campaign in the Arena Football League. Sesay spent time at both Linebacker and Defensive end at Texas Tech during the 2008 and 2009 seasons. Prior to that, Sesay spent time at Sequoias Junior College where he was ranked among the top 50 junior college players in 2008 by rivals.com. Sesay also spent time at Northwest Community College in Mississippi in 2006, where he compiled 63 tackles and 12 sacks in just 8 games played.
Filer and Sesay will be among a group of 35 players that report to the Barnstormers training camp this February to compete for a spot with the club. The 2011 Arena Football League season kicks off in this spring with the Barnstormers home opener scheduled for Friday, March 25 when they host the defending AFL champion Spokane Shock. Don't forget that 2011 Iowa Barnstormers season tickets remain on sale for as low as $117.00 per seat! Call 515-633-2255 or visit www.theiowabarnstormers.com for more information.