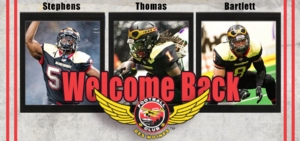 Iowa Barnstormers Continue Building 2016 Roster
Barnstormers Season Kicks Off February 20, 2016
DES MOINES – The Iowa Barnstormers of the Indoor Football League (IFL) have continued recruiting for the 2016 season which kicks off in February. Head Coach Joe Brannen has announced updates to the 2016 training camp roster including the re-signing of three players and the signing of several rookies.
The Iowa Barnstormers have re-signed Jeremy Stephens (DL), Johnny Thomas (WR), and Alex Bartlett (DB) to the 2016 roster. All three players spent their rookie season with the Iowa Barnstormers in 2015.
"Coming back to the team with one year under my belt is something that I am looking forward to," said Stephens. "It's all about experience in this league and I feel that having played last year will help take my game to new heights."
Coach Brannen has also announced the signing of several rookies who will be joining the Barnstormers roster. Offensive players David Frazier (WR) and Jairus Spain (OL) will enter training camp alongside defensive players Chayz Holt (DB), DaeJohn Love (DB), David Toussaint (DB), and Tim McGee (DL).
Season Tickets are on sale for the Iowa Barnstormers 2016 season starting as low as $80 per seat. Season Tickets are the perfect gift for the football fan in your family. Don't miss a minute of the action this season! For more information, call the Barnstormers at (515) 633-2255 or log on to www.theiowabarnstormers.com.
###