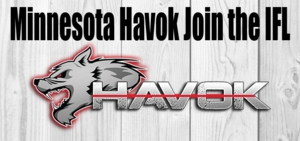 IFL Announces Addition of Minnesota Havok
New Franchise to Begin IFL Play in 2016
The Indoor Football League (IFL) has announced the addition and partnership of the league's newest team, the Minnesota Havok.
During a press conference Wednesday afternoon at the Verizon Wireless Center in Mankato, MN team ownership and league office staff announced that the Havok will compete as new members of the IFL for the 2016 season. The Havok also introduced Jose Jefferson as the first coach in team history.
"We are incredibly excited to bring a professional football team to the Mankato community, " said Havok Owners Stanley and Tiffany Legg. " We wanted to create something that not only excites the community, but also is able to give back. We are thrilled to be joining a league with a strong model for success and with many local rivalries."
"We are thrilled to announce the addition of the Minnesota Havok," stated IFL Commissioner Michael Allshouse. "The local ownership group has dedicated themselves to bring a strong product to the Mankato community. We are looking forward to a long and productive partnership with the team and city."
The Havok will be led by Head Coach Jose Jefferson. A veteran indoor football head coach, Jefferson was the inaugural head coach of IFL member the Green Bay Blizzard and was also a head coach for former IFL member, the Sioux City Bandits. While with Sioux City, Jefferson oversaw the development and advancement of RB Fred Jackson to the NFL. Jackson went on to have a prolific career with the Buffalo Bills and is currently a member of the Seattle Seahawks.
The Minnesota Havok have also signed DL Bryan Keys as the first player in team history. The 6'1, 310- pound defensive end is a Minnesota State University alumni and is from Mankato. After graduation, Keys attended Minnesota Vikings camp and played for the IFL's Green Bay Blizzard last season.
The IFL will continue to unveil new announcements regarding the 2016 season as the league prepares for the Annual Board of Directors Meetings in Las Vegas, NV. The two-day event will take place on September 15-16.
ABOUT THE MINNESOTA HAVOK: The Minnesota Havok is a professional indoor football team based in Mankato, Minnesota. 2016 will be the team's inaugural season in the IFL and the team will play all of its home games at the Verizon Center. For more information about the Minnesota Havok, log onto www. Havokfootball.com
Season tickets for the 2016 Iowa Barnstormers season are now available! For as low as $80 per seat, fans can enjoy the same great location each game in addition to merchandise discounts and a ticket to the annual end-of-the-season party. Call the Barnstormers at 515-633-2255 to purchase your season tickets today!
###