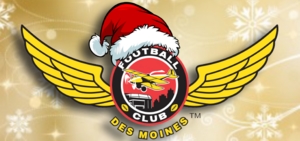 Iowa Barnstormers Offer Holiday Package
DES MOINES – The Iowa Barnstormers begin celebrating the season of giving by offering a special Holiday Package. Available now through Christmas, Barnstormers fans may purchase this offer which includes tickets and official team merchandise.
The perfect gift for any football fan, the Holiday Package includes two end zone tickets to any 2015 Barnstormers home game, a goggle beanie, and a camouflage hat. This package is valued at $78, but is now being offered for $50 and will be available through Christmas.
The Iowa Barnstormers are also offering a Thanksgiving Special for fans who purchase the Holiday Package between Monday, November 24 and Monday, December 1. All packages ordered between these dates will include a bonus of two end zone tickets to the Iowa Barnstormers Home Opener on April 11, 2015. This package is valued at $116, but will be available for $50.
Both the Holiday Package and the Thanksgiving Special may be upgraded to include sideline tickets to any 2015 Iowa Barnstormers home game for an additional $22 per package.
For additional information or to order your Iowa Barnstormers Holiday Package, call the Front Office at 515-633-2255.
The Iowa Barnstormers Official Dance and Promotional Team, the Storm Chasers, are holding their open tryout on December 6, 2014. The audition will take place at the Riverfront YMCA in downtown Des Moines and is open to all females ages 18 and older. To register or for more information, call the Barnstormers Front Office at 515-633-2255 or log on to www.theiowabarnstormers.com.
###