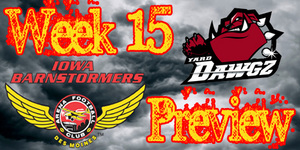 Week 15 Preview
Iowa Barnstormers @ Oklahoma City Yard Dawgz
Saturday July 10, 2010
Kickoff: 7:05pm
Cox Convention Center (10,595) Oklahoma City, OK
2010 Record- 6-6 (2-4 at home 4-2 on the road) - Streak: Won 2- Third Place, National Conference, Midwest Division
Week 14 Recap:
The Barnstormers were victorious for the second time in a row as they defeated the Dallas Vigilantes 59-38. The Barnstormers started off slowly in the first quarter scoring only once on a Vena to Schmidt 39 yard touchdown pass. The second quarter was an different story as the Barnstormers scored twice along with a safety from a Micah King sack, while holding the Vigilantes to three points. The Barnstormers went into halftime with a score of 23-17.
The momentum continued to grow in the second half of the game as the Barnstormers once more making it four consecutive drives in which the Vigilantes were unable to produce and the Barnstormers scored. Defensive backs, Tanner Varner and Khalil Carter each had an interception in each quarter of the second half respectively. The Barnstormers went on to score three more times in the fourth quarter bringing the final score to 59-38.
Week 15 Preview:
With only one more road game after this matchup with Oklahoma City the Barnstormers need to continue their success on the road to keep their playoff hopes alive. The Yard Dawgz were defeated by the Barnstormers earlier this season by a score of 68-60 in the Barnstormers first of two victories at home this season. The Yard Dawgz have been an up and down team this season leading them to a record of 5-7 after two consecutive victories over the Dallas Vigilantes and Bossier-Shreveport Battlewings.
Week 15 Schedule:
Iowa Barnstormers @ Oklahoma City Yard Dawgz will be broadcast LIVE on 1700 AM The Champ, and on the Internet at www.theiowabarnstormers.com and at www.nifty-tv.com.
Saturday, July 10- 7:05pm – Cox Convention Center
@ Oklahoma City yard Dawgz (5-7) - Streak Won 2
Second Place in American Conference, Southwest Division
-This is the fourth meeting between the Oklahoma City Yard Dawgz and the Iowa Barnstormers. The Barnstormers currently lead the series 2-1.
-Leading Passer: Tommy Grady (#15) – 12 GP, 279 for 454, 3389 yds, 66 TDs, 11 INTs
-Leading Rusher: Chad Cook (#37) - 9 GP, 27 carries for 90 yds, 4 TDs, 3.3 Avg./G
-Leading Receiver: Timon Marshall (#5) - 11 GP, 57 catches for 641 yds, 13 TDs, 11.2 yds per catch, 58.3 Avg./G
-Leading Tackler: Fred Shaw (#8) - 12 GP, 69 tackles (47 solo, 22 assisted), 1 interception for 9 yds, 17 pass breakups.
Barnstormer Player of the Week: (Week 15)
Tanner Varner-DB-#20 Week 14 Line: 8 solo tackles, 1 interception for 21 yds and 2 pass breakups.
Tanner Varner has been absolutely dominant in the backfield against opposing teams. Last week Varner recorded his seventh interception of the season along with breaking the 100 mark in tackles for the season. Varner is on pace to smash his team record of 120 tackles last season. Varner currently leads the league in average tackles per game in all positions along with ranking in the top five for interceptions per game and total interceptions.

Iowa Barnstormers Team Leaders
Passing
-Attempts: Ryan Vena (362)
-Completions: Ryan Vena (225)
-Percentage: Ryan Vena (62.0)
-Yards: Ryan Vena (2830
-Touchdowns: Ryan Vena (57
Receiving
-Receptions: Jesse Schmidt (81
-Yards: Jesse Schmidt (1142)
-Touchdowns: Todd Blythe (22)
-Yards/Catch: Jesse Schmidt (14.1)
-Yards/Game: Jesse Schmidt (95.2)
-Long: Todd Blythe and Errick McCown (47)
Rushing
-Attempts: Ryan Vena (62)
-Yards: Ryan Vena (239)
-Touchdowns: Ryan Vena (19)
-Yards/Carry: Ryan Vena (3.9)
-Yards/Game: Ryan Vena (19.9)
-Long: Ryan Vena (34)
Kick Returns
-Returns: Larry Kendrick (39)
-Yards: Larry Kendrick (748)
-Touchdowns: none
-Yards/Return: Larry Kendrick (19.2)
-Long: Larry Kendrick (52)
Field Goals
-Attempts: Jeff Glas (14)
-Kicks Made: Jeff Glas (5)
-Percentage: Jeff Glas (36.0)
-Long: Jeff Glas (30)
-PAT Made: (66)
-Touchbacks: (18)
Defense
-Tackles: Tanner Varner (105)
-Solo Tackles: Tanner Varner (80)
-Assisted Tackles: Micah King and Tanner Varner (25)
-Sacks: Micah King (4.5)
-Tackles for Loss: Micah King (6)
-Interceptions: Tanner Varner (7)
-Pass Breakups: Tanner Varner and Jason Simpson (13)
-Fumble Recoveries: Larry Kendrick (3)
-Forced Fumbles: Brent Curvey (2)
Don't forget to get your tickets for the next home game Friday July 16th when the Barnstormers take on the Shock! This game will be broadcast on NFL Network. Call the Barnstormers Front Office to get your tickets TODAY: 515-633-2255!