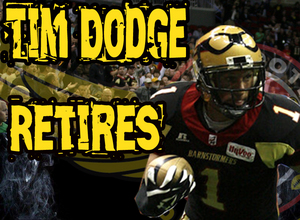 Dodge to Retire from Barnstormers, Arena Football
Former Hawkeye, all-arena performer to pursue law enforcement career
Des Moines, Iowa – The Iowa Barnstormers today announced that WR/DB Tim Dodge, a seven-year arena veteran and all-league performer, has retired from arena football to pursue a career in law enforcement with the Ankeny Police Department.
Dodge, a native of Rockwell, Iowa was a two-sport standout at the University of Iowa in football and track, where he earned all-American honors. His retirement from the Barnstormers active roster is effective immediately.
"Tim was a leader on the field, in the locker room and throughout the community. While the uniform he wears to work may be changing, I know Tim will continue to be a leader in his new career," said Barnstormers President Jeff Lamberti. "We wish he and his family well and thank him for being a role model for Barnstormers fans young and old."
Lamberti indicated the team is planning to formally honor Dodge's career at the July 16 game against Spokane and that the team will announce specific details in the coming weeks.
In his seven-year career, Dodge was a throwback to the roots of "Ironman-style" arena football as he played wide receiver, defensive back and was often his team's primary kicker returner. As a receiver, Dodge finishes his career with 610 receptions, 7,670 yards, and 126 touchdowns.
Dodge posted career-best numbers during the 2004 season as a member of the af2 Quad Cities Steamwheelers, earning the league's 2004 Ironman of the Year award after recording 108 catches for 1,596 yards. Dodge's stellar 2004 campaign saw him earn an invitation for a tryout with the National Football League's Carolina Panthers.
Dodge also earned accolades during the Barnstormers' 2009 campaign, as he was selected all-af2 second team after leading Iowa in all-purpose yards, including seven kick returns for touchdowns.
Tim Dodge Career Arena Football Receiving Statistics
Season Team Rec. Yards TDs
2003 Quad Cities 80 1,275 22
2004 Quad Cities 108 1,596 24
2005 Quad Cities 104 1,164 14
2006 Quad Cities 104 1,321 27
2008 Iowa 87 947 16
2009 Iowa 105 1,175 20
2010 Iowa (AFL) 22 192 3
AFL/af2 Career 610 7,670 126
The Barnstormers (3-4) return home Saturday, June 5 to play the Alabama Vipers (4-4) at 7:05 p.m. at Wellmark Field at Wells Fargo Arena. Tickets are on-sale at www.theiowabarnstormers.com or (515) 633-2255.