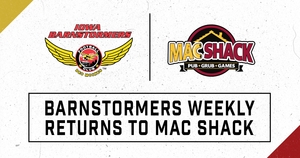 "Barnstormers Weekly" is on the move!
Barnstormers Weekly Radio Show moves to Legends American Grill
DES MOINES - The Iowa Barnstormers of the Arena Football League are pleased to announce that Legends American Griill will be the new official home of the Barnstormers Weekly radio show in 2014. The show will air live from different Legends locations on Tuesday nights between 6:00pm-7:00pm on 1460 KXnO AM throughout the season.
Veteran sports broadcaster Joe Stasi returns for his seventh season as host of Barnstormers Weekly. Each show will feature live interviews with Barnstormers players and coaching staff, along with a re-cap of the previous week's game, and a preview of upcoming opponents. There will be food and drink specials for Barnstormers fans and season ticket holders along with great prizes all season. The first show of the 2014 season will air on Tuesday, March 11th, at 6:00pm live from Legends in Johnston. Legends is located at 8460 Birchwood Court Johnston, IA 50131.
The 2014 Iowa Barnstormers season begins on Saturday, March 15th with a road contest against the Spokane Shock. The home portion of the schedule begins Saturday, April 12th when the San Antonio Talons come to town for a 7:05 pm kickoff. Season tickets remain on sale for as low as $110 per seat. Don't miss a minute of the action! To order your seats today, or for more information, call the Barnstormers at (515) 633-2255 or log onto www.theiowabarnstormers.com