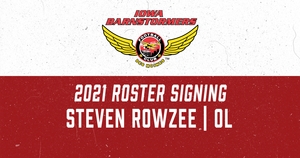 Barnstormers Sign Offensive Lineman
OL Steven Rowzee joins 2021 roster
DES MOINES – The Iowa Barnstormers have signed offensive lineman Steven Rowzee to the 2021 roster following a trade with the Spokane Shock, Head Coach Ameer Ismail announced today.
Rowzee (6-4, 310, Troy University) joins the Iowa Barnstormers for his first season with the team. Rowzee spent the 2019 season with the Arizona Rattlers before signing on to the Spokane Shock roster for 2020. Collegiately, Rowzee began his career at the College of DuPage where he earned All-Region Honors as a freshman before moving on to Eastern Arizona his sophomore season where he was named First Team All-Arizona, All-Conference, and All-Western State. Rowzee finished his collegiate career at Troy University where he was a two-year starter. As a junior, Rowzee was part of an offensive line that allowed only eight sacks while leading the way for the 9th 1,000 yard rusher in Trojan history.
Rowzee will enter the team's 2021 Training Camp in the Spring.
Information regarding the Iowa Barnstormers 2021 season will be available soon.
Follow the team on social media @iabarnstormers for the latest updates.
Facebook | Twitter | Instagram
###