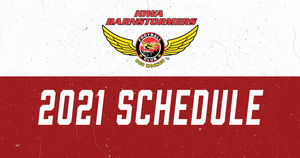 Barnstormers Announce 2021 Schedule
Barnstormers Kick-Off Season at home on April 3
DES MOINES – The Iowa Barnstormers and the Indoor Football League (IFL) are pleased to announce their 2021 season schedule. The Barnstormers will open the season home at Wells Fargo Arena on Saturday, April 3, 2021.
The 2021 IFL season marks the league's 13th season of play and will feature a 16 regular-season game schedule. The league is also welcoming three new member teams this season with the addition of the Massachusetts Pirates, Northern Arizona Wranglers, and Louisville Xtreme. The season will also mark the first time the Spokane Shock, Duke City Gladiators, and Frisco Fighters take the field having joined for the 2020 season.
The Barnstormers 2021 home schedule will consist of eight total regular season home games and will kick-off at home with a matchup versus the Sioux Falls Storm on Saturday, April 3. The home schedule also hosts the Green Bay Blizzard (April 24, July 17), Massachusetts Pirates (May 8), Frisco Fighters (May 22), Bismarck Bucks (May 28), Louisville Xtreme (June 19), and closes once again with the Sioux Falls Storm (July 24).
The Barnstormers will be traveling a total of eight times in 2021, kicking off the season on the road against the newly joined Massachusetts Pirates on Saturday, April 10. The season also includes travel to the newly joined Louisville Xtreme (April 18, July 3), Sioux Falls Storm (May 15), Green Bay Blizzard (June 4, June 25), Bismarck Bucks (June 12), and the Frisco Fighters (July 9).
Once again this season, all Iowa Barnstormers home games will be played at Wells Fargo Arena in downtown Des Moines, Iowa.
The Iowa Barnstormers are working closely with the facility regarding seating regulations for the 2021 season due to Covid-19 restrictions. The health and safety of fans, players, and staff is the organization's first priority. Information regarding Season Tickets and Single Game Tickets for the 2021 season will be available soon.
A complete 2021 schedule is below.
Iowa Barnstormers 2021 Schedule
*All kickoff times are in CST
| | | |
| --- | --- | --- |
| Saturday, April 3 | vs. Sioux Falls Storm | 7:05pm |
| Saturday, April 10 | @ Massachusetts Pirates | 6:05pm |
| Sunday, April 18 | @ Louisville Xtreme | 3:05pm |
| Saturday, April 24 | vs. Green Bay Blizzard | 7:05pm |
| Saturday, May 8 | vs. Massachusetts Pirates | 7:05pm |
| Saturday, May 15 | @ Sioux Falls Storm | 7:05pm |
| Saturday, May 22 | vs. Frisco Fighters | 7:05pm |
| Friday, May 28 | vs. Bismarck Bucks | 7:05pm |
| Friday, June 4 | @ Green Bay Blizzard | 7:05pm |
| Saturday, June 12 | @ Bismarck Bucks | 6:05pm |
| Saturday, June 19 | vs. Louisville Xtreme | 7:05pm |
| Friday, June 25 | @ Green Bay Blizzard | 7:05pm |
| Saturday, July 3 | @ Louisville Xtreme | 6:05pm |
| Friday, July 9 | @ Frisco Fighters | 7:05pm |
| Saturday, July 17 | vs. Green Bay Blizzard | 7:05pm |
| Saturday, July 24 | vs. Sioux Falls Storm | 7:05pm |