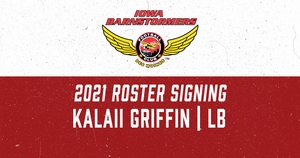 Barnstormers Sign Linebacker
LB Kalaii Griffin II Signs on to Barnstormers 2021 Roster
DES MOINES - The Iowa Barnstormers have signed linebacker Kalaii Griffin to the 2021 roster, Head Coach Ameer Ismail announced today.
Griffin (6-1, 230, UTEP) joins the Iowa Barnstormers for his rookie season in the Indoor Football League (IFL). Collegiately, Griffin played his first season at Ventura Community College before transferring to the University of Texas El Paso. In three seasons with the Miners, Griffin appeared in 25 games collecting 43 total tackles including 18 solo tackles, five tackles for loss, one sack, and one forced fumble.
"Kalaii is an extremely athletic linebacker," said Coach Ismail. "He will contribute playmaking and versatility to our defense. He is quick and expressive. I want him to compete at camp and show that versatility."
Griffin will join the Iowa Barnstormers 2021 Training Camp in the Spring.
Information about the Iowa Barnstormers 2021 season is coming soon. For the latest updates follow the team on social media @iabarnstormers.
Facebook | Twitter | Instagram
###