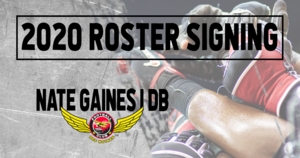 Barnstormers Add Defensive Back
Defensive Back Nate Gaines joins Barnstormers roster
DES MOINES – The Iowa Barnstormers have signed defensive back Nate Gaines to the 2020 roster, Head Coach Ameer Ismail announced today.
Gaines (6-3, 216, University of Texas - San Antonio) joins the Iowa Barnstormers for his first season with the team. Gaines joins the roster with indoor experience having spent the 2019 season with the Amarillo Venom of the Champions Indoor Football League (CIF). Gaines appeared in 11 games with the Venom collecting 69 tackles and eight interceptions including one pick six, earning honors as First Team All-CIF.
Collegiately, Gaines spent four years at the University of Texas – San Antonio. During his time with the Roadrunners, Gaines appeared in 44 games collecting 198 total tackles, 5.5 tackles for loss, one forced fumble, one fumble recovery, and eight interceptions.
"Nate is a top talent who has definitely been overlooked," said Coach Ismail. "He has all of the tools to not only be a top player for us in the IFL but the capabilities to have his talents be seen by next level leagues."
Season Tickets for the 2020 Iowa Barnstormers season are available now for as low as $80 per seat. Catch all of the action from the same great seat at every home game! For more information, call the Barnstormers at (515) 633-2255 or log on to www.theiowabarnstormers.com.
###