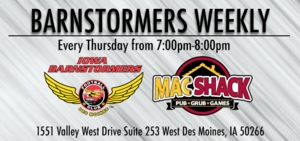 "Barnstormers Weekly" Moves to Mac Shack
Barnstormers Radio Show has new location and date
DES MOINES – The Iowa Barnstormers of the Indoor Football League are pleased to announce that Mac Shack will be the official home of the Barnstormers Weekly radio show for the 2019 season. Barnstormers Weekly will air live from Mac Shack on Thursday evenings from 7:00 p.m. to 8:00 p.m. on KXNO 1460 AM.
Veteran sports broadcaster Joe Stasi will return for his 12th season as host of "Barnstormers Weekly." Each show will feature live interviews with Barnstormers players and coaching staff, along with a re-cap of the previous week's game, and a preview of upcoming opponents.
The weekly event will include food and drink specials for Barnstormers fans and season ticket holders along with great prize giveaways all season! Mac Shack will offer half price pizzas and $2.50 domestic pints every Thursday. The first show of the 2019 season will air live on KXNO 1460 AM from Mac Shack on Thursday, February 28 at 7:00 p.m.
Mac Shack is located at 1551 Valley West Drive Suite 253 in West Des Moines (right inside Valley West Mall!) Mac Shack is more than just a sports bar with a full menu, they have added entertainment for the whole family! Enjoy shuffle board, darts, golden tee, buck hunter, car racing, hoops, pool, and more! Don't miss a minute of your favorite sports teams! With 16 huge HD TV's your game is always on at Mac Shack – Pub, Grub, Games!
Join Mac Shack for a Ribbon Cutting Ceremony before Barnstormers Weekly at 4:00 p.m. on Thursday, February 28 and then come back on Saturday, March 2nd for their Grand Opening Extravaganza! The Grand Opening will feature awesome prize giveaways during half time of the Iowa State Basketball Game at 1:00 p.m. and the Iowa Basketball game at 4:00 p.m.
The Iowa Barnstormers kick off for their home opener on Saturday, March 9 at Wells Fargo Arena. Single game tickets are available now. For more information about ticket options, please call the Barnstormers at (515) 633-2255, or log on to www.theiowabarnstormers.com.
###