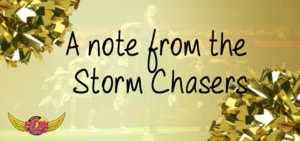 A NOTE FROM THE STORM CHASERS:
The Storm Chasers Dance Team has undergone some changes for the 2018 season. As a team, we are sad to announce that due to scheduling conflicts Jen Nason has reluctantly stepped down from her position as Head Coach. We are incredibly thankful for everything Jen has done for the dance team and we are happy to report that she will still be involved with the Iowa Barnstormers and the Storm Chasers on a more part time basis throughout the 2018 season.
In lieu of Jen's absence as Coach, Storm Chaser Perry will be taking over as captain for the 2018 season. We are excited about this change and support Perry in her new role.
A couple of changes have also taken place on the 2018 Storm Chasers roster. Unfortunately, due to unexpected scheduling conflicts and life changes, two members of the Storm Chasers roster that was originally announced back in December will be unable to participate with the team this season. We are very sad to report this news and hope to see both dancers back next year.
We are happy to have been able to fill those two roster spots last minute and look forward to the Iowa Barnstormers home opener on March 10th! We are excited to introduce you to the updated 2018 Storm Chasers Dance Team!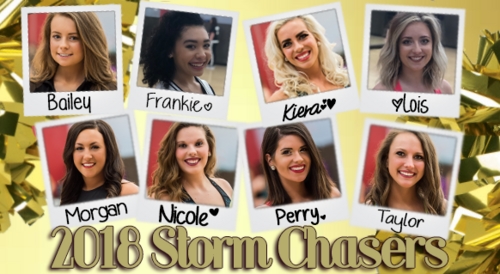 In addition to performing live at all eight Iowa Barnstormers home games, the Storm Chasers will appear at numerous community events throughout the year.
Meet the Girls:
| | |
| --- | --- |
| Bailey | Rookie |
| Frankie | Rookie |
| Kiera | 2 Years |
| Lois | Rookie |
| Morgan | 1 Year |
| Nicole | Rookie |
| Perry | 2 Years |
| Taylor | Rookie |