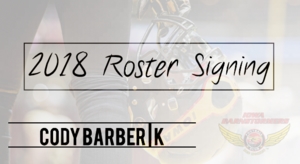 Barnstormers Sign Kicker
Iowa Barnstormers Re-Sign Kicker Cody Barber
DES MOINES – The Iowa Barnstormers have re-signed kicker Cody Barber to the 2018 roster, Head Coach Dixie Wooten announced. Barber (6-3, 215, N/A) returns to the Iowa Barnstormers for his second season with the team.
Barber joined the Barnstormers at the end of the 2017 season, appearing in the playoffs for one game. Prior to joining the Barnstormers, Barber had spent time with the Bloomington Edge of the Champions Indoor Football league (CIF). Barber has also spent time with the Duke City Gladiators (CIF), Billings Wolves (IFL), and Tempe Predators of the Arizona Football League.
"Cody is a great sign for us," said Coach Wooten. "He has a very strong and accurate leg and in this game that is important. When a kicker can kick 53 yard field goals, that's a great weapon to have."
Season Tickets for the Iowa Barnstormers 2018 season are available now! For as low as $80 per seat, fans can enjoy the action from the same great seat location each game. For more information, call the Barnstormers at (515) 633-2255 or log on to www.theiowabarnstormers.com.
###