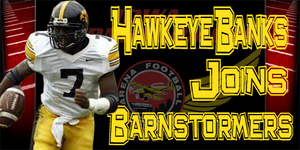 DES MOINES – In the franchise's most high-profile off-season signing, the Iowa Barnstormers today announced that former University of Iowa All-American quarterback, Brad Banks, will join the Arena Football League team for the 2011 season.
Banks, who led the Hawkeyes to a share of the 2002 Big Ten title, finished his collegiate career as one of the most decorated players in Iowa history. He won the Davey O'Brien Award as the nation's best quarterback, was named the Associated Press College Football Player of the Year, and received All-American recognition from numerous media organizations. Banks also finished second in the 2002 Heisman Trophy balloting to Southern California's Carson Palmer.
Following his tenure at Iowa, Banks signed a free agent contract with the NFL's Washington Redskins. More recently, Banks comes to the Barnstormers following a five-year career in the Canadian Football League.
"Brad is a great addition to the Barnstormers," said Head Coach John Gregory. "His athleticism, accuracy and touch on the ball, are well-suited to arena football. I know a lot of Iowa fans will be excited to see him back on the field."
Gregory noted the Barnstormers starting quarterback position remains open following the departure of 2010 starter, Ryan Vena, to the Philadelphia Soul. Gregory expects Banks to compete for the starting nod with arena football veterans BJ Hall and Matt Bassuener, as well as 6'4 newcomer Bryan Lee-Lauduski.
The 2011 Barnstormers' 35-man roster reports for training camp on Sunday, February 20. The 'Stormers begin the 2011 regular season, Saturday, March 19 at Pittsburgh and return to Des Moines for a Friday, March 25 match-up against defending AFL champ Spokane Shock. 2011 season tickets start at $117 per seat and can be ordered by calling 515-633-2255 or visiting www.theiowabarnstormers.com for more information.