Roster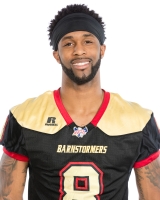 Bryce Enyard
#8
Position:
DB
Height:
6' 0"
Weight:
195 lbs
College Experience:
Northwest Missouri State
Biography:
Enyard (6-0, 195, Northwest Missouri State) returns to the Iowa Barnstormers for his second season in the Indoor Football League (IFL). Enyard joined the Barnstormers for his rookie season in 2017 after being signed from the team's open tryout. Enyard had an impressive collegiate career at Northwest Missouri State University where he played for four seasons. As a freshman, Enyard appeared in 13 games where he recorded 45 tackles, six interceptions, two pass breakups, and one touchdown earning him MIAA freshman of the year and Second Team All-MIAA honors.
Enyard took a year off before returning to the football field in 2013 where he started in all 15 games with the Bearcats and led the team in total interceptions. In 2014, Enyard's streak continued as he appeared in 12 games and collected 41 tackles, five tackles for loss, four pass breakups, one interception, and one touchdown earning Third Team All-MIAA honors. As a senior, Enyard collected 50 tackles, seven pass breakps, four interceptions, two touchdowns, and one sack ending his collegiate career with First Team All-MIAA and CCA All-Region Second Team Honors.