Roster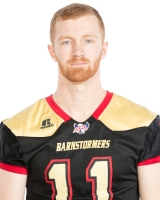 Brady Roland
#11
Position:
WR
Height:
6' 2"
Weight:
185 lbs
College Experience:
Grand View University
Biography:
Roland (6-2, 185, Grand View) returns to the Iowa Barnstormers for his fourth season in the Indoor Football League (IFL). Roland first joined the Barnstormers for his rookie season in 2015 appearing in 12 games. He closed out his rookie year with 53 receptions for 664 yards and 14 touchdowns. In 2016, Roland started in all 16 games and racked up 95 receptions for 1,086 yards which ranked him second in the league. Roland scored 22 touchdowns over the season, placing him fourth highest in the league. In 2017, Roland once again started in all 16 games racking up 70 receptions for 911 yards and 22 total touchdowns tying for first in the league.
Throughout his three years with the IFL, Roland has earned All-IFL honors every season; being named to Second Team All-IFL in 2015 and First Team All-IFL in 2016 and 2017. Roland was also listed at number 10 on the IFL's Top Ten Players of 2016.