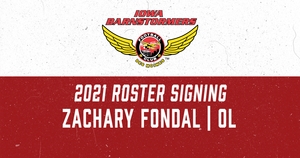 Fondal Returns to Barnstormers
Veteran offensive lineman Zachary Fondal returns for 2021
DES MOINES – The Iowa Barnstormers have re-signed veteran offensive lineman Zachary Fondal to the 2021 roster, Head Coach Ameer Ismail announced today.
Fondal (6-5, 315, University of Kansas) joins the Iowa Barnstormers for his first season with the team. Fondal first began his indoor career with the San Angelo Bandits (CIF) in 2014 and continued to gain experience with the Salt Lake City Screaming Eagles (IFL), Kansas City Phantom (CIF), and most recently the Green Bay Blizzard appearing in eight games during the 2019 IFL season.
Collegiately, Fondal played two years with Navarro College where he contributed to an offense that set a school record of 521 points in 12 games before transferring to the University of Kansas. In one season with the Jayhawks, Fondal appeared in a total of four games before moving on to Angelo State University to finish his collegiate career.
Fondal first joined the Iowa Barnstormers roster ahead of the 2020 season, making the team's final 25-man roster before the season's unforeseen cancelation due to the COVID-19 pandemic.
"Going through camp and not having a season was pretty upsetting," said Fondal. "Now we know what to expect going into next season's camp."
Fondal looks forward to returning to Des Moines in the spring for the 2021 season. "I'm most excited for the home opener. I know our fans will be just as excited as us to get back into the arena."
More information regarding the Iowa Barnstormers 2021 season will be available soon.
Follow the Iowa Barnstormers on social media for all of the latest updates @iabarnstormers.
Facebook | Twitter | Instagram
###