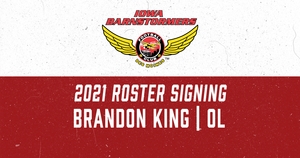 Barnstormers Sign Offensive Lineman
OL Brandon King joins 2021 roster
DES MOINES – The Iowa Barnstormers have signed offensive lineman Brandon King to the 2021 roster, Head Coach Ameer Ismail announced today.
King (6-4, 320, University of South Alabama) joins the Iowa Barnstormers for his first season with the team. King was previously signed by Salina Liberty (CIF) and Bismarck Bucks (IFL). Collegiately, King began his career at Contra Costa Junior College before transferring to Alabama A&M and finishing at the University of South Alabama.
"Brandon is a big and strong kid that can move anyone in front of him," said Coach Ismail. "He uses his toughness and aggressiveness to drive blocks and finish every play. He has a great work ethic and want and will to be great."
King is the first offensive lineman to enter the team's 2021 Training Camp.
Information regarding the Iowa Barnstormers 2021 season will be available soon. Follow the team on social media @iabarnstormers for the latest updates.
Facebook | Twitter | Instagram
###