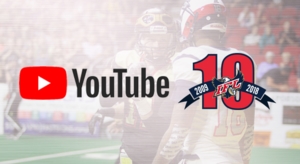 FROM THE INDOOR FOOTBALL LEAGUE:
All IFL Games to be Streamed on Youtube in 2018
IFL Looks to Build Off 2017 Streaming Success
The Indoor Football League (IFL) is excited to announce that all IFL games will continue to be streamed for free on YouTube for the 2018 season.
In the IFL's first season using the online platform, almost 500,00 fans live streamed IFL games during the 2017 season.
"YouTube was an absolute success for the IFL in 2017 as more fans watched the IFL than ever before," stated IFL Commissioner Michael Allshouse. "As the League moves into its 10th season in 2018 and as the world grows increasingly digital, fans continue to desire more access to live games and content. It simply makes sense to continue to provide games on the leading video platform in the world." Check out the IFL's official channel, www.youtube.com/IndoorFootballLeague, for not only full live games, but also on-demand and archived games, weekly highlights and other digital video content.
The 2018 IFL season kicks off on Friday February 23 as the Nebraska Danger host the Io-wa Barnstormers at 7:00 PM CT. ABOUT THE IFL: The Indoor Football League (IFL) will begin its tenth season of play in the spring of 2017. The IFL was created in 2008 from a merger between the Intense Football League and the United Indoor Football Association. Its teams are located from Phoenix, Arizona to Green Bay, Wisconsin. For more information about all things IFL, please log on to www.goifl.com or call the league office at (804) 643-7277